Hybrid – the creator of POSS® – operates as both research and development catalyst and chemical additive manufacturer. We create the seamless, hybrid fusion of organic and inorganic materials known as polyhedral oligomeric silsesquioxane. We make it in a way that empowers companies across the globe to solve problems with products and processes.
We develop knowledge. We generate solutions. And everyday, we strive to unlock more possibilities.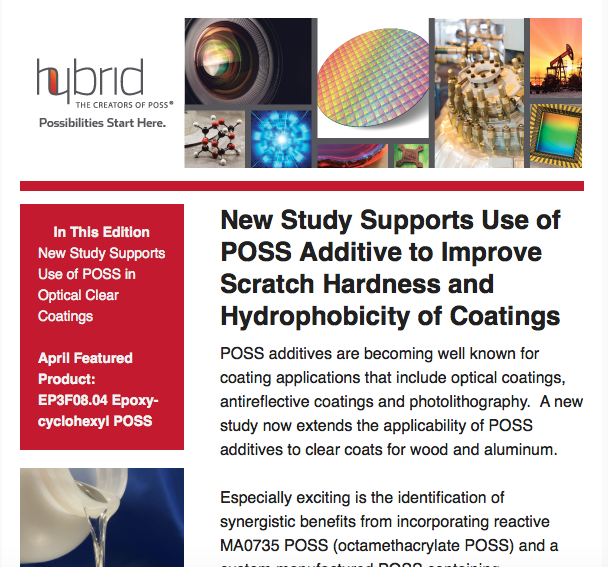 Hybrid's spring e-newsletter includes findings from a recent study on the use of MA0735 POSS additive to improve scratch hardness and hydrophobicity of coatings. The article was published in the January 29, 2016 issue of the journal Progress in Organic Coatings. April's featured product is Epoxycyclohexyl POSS, EP3F08.04. To see the April e-newsletter in its entirety, click here.
Hybrid released its January e-newsletter today. This month's edition featured a new Journal of Applied Science article on the the benefits of using SO1458 POSS with polyphenylenesulfide (PPS) and polyetheretherketone (PEEK). January's featured product is EP0409 Glycidal POSS. Those who mention the e-newsletter can receive a 10% discount on their order. Finally, Hybrid was named one of 12 companies […]