Description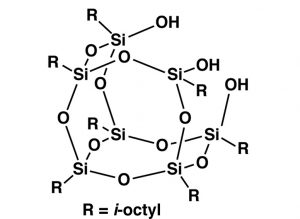 SO1455 – TriSilanolIsooctyl POSS® is a hybrid molecule with an inorganic silsesquioxane at the core, organic isooctyl groups attached at the corners of the cage and three active silanol functionalities. SO1455 can be used for surface modification of fillers or other materials. It is also effective as an additive to thermoplastics and thermoset polymers for improving moisture resistance and processability. SO1455 has also shown effectiveness toward skin adhesion, wound closure and hemostasis.

Key Properties
Formula Weight: 1184.16
Appearance: clear, pale yellow viscous liquid
Thermal Stability (5% wt loss): 363˚C
Solvent Solubility: THF, chloroform, acetone, ethanol, hexane
Solvent Insolubility: acetonitrile
Resin Solubility: aliphatic and aromatic monomers, oligomers, PP, PE, PA, cellulosics
Relevant Literature
• Reinforcement of PET Fibers – High Performance Polymers, 17: 403–424, 2005
• Transparent Nanocomposites of POSS – Proc. 227th ACS Meeting 2004
• Stone Conservation – ACS Appl Mater Interfaces. 2009 Feb;1(2):393-401.
Download the Catalog Page
See Cosmetics Data Sheet
CAS: 444619-08-3
Authorizations: TSCA, INCI