Description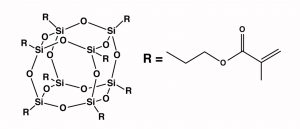 MA0735 is a hybrid molecule with an inorganic silsesquioxane at the core and organic methacrylate groups attached at the corners of the cage. MA0735 can provide fast UV cure, scratch resistance, enhanced mechanical properties, excellent moisture resistance and increased use temperature. It is also excellent in enhancing flow and dispersing particulate fillers in rubber.

Key Properties
Formula Weight: 1433.97
Appearance: clear, pale yellow, viscous liquid
Viscosity (@ 25˚C): 18 poise
Thermal Stability (5% wt loss): 386˚C
Solvent Stability: THF, chloroform, acetone, acetonitrile, ethanol
Solvent Insolubility: water
Resin Solubility: aromatic and aliphatic resins
Relevant Literature
• Laser media – J. Phys. Chem. C, Vol. 112, No. 38, 208
• Chemical /stain resistant coatings – US Patent No: 7,470,728 B2
• Radiation curable inks – EU Patent No: EP 1 452 569 B1
• Dental Composite – US Patent No: 7,160,941 B2
• Carbon fiber composites – J. Mater. Sci., Vol. 42, No. 13, 5264.
• Reinforcement of HNBR – Materials Science Forum (Vol 714) 175-181.
• Ultra low dielectric materials – J. Mater. Chem., 2009, 19, 3643.
Download Data Sheet – MA0735 Optical Hard Coating
Download a General Technical Data Sheet
Download a Cosmetics Data Sheet
CAS 160185-24-0
Authorizations: TSCA, INCI