Description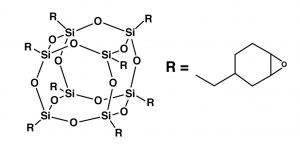 EP0408 is a hybrid molecule with an inorganic silsesquioxane at the core and organic epoxycyclohexyl groups attached at the corners of the cage. EP0408 can be cured with aromatic, aliphatic amines and photo initiators. EP0408 and its variations can provide increased use temperature, excellent water and solvent resistance and enhanced thermomechanical performance.
EP0408 is available in several variations and dilutions, depending on the need. These include, but are not limited to:
EP3F08.01 (70 wt. % EP0408 with 30 wt. % PGMEA)
EP3F08.02 (70 wt. % EP0408 with 30 wt. % Cyclopentanone)
EP3F08.04 (70 wt. % EP0408 with 30 wt. % Cycloaliphatic Epoxy Diluent)
See below to download data sheets on each of these variations. To find the EP0408 variation that best meets your product needs, please fill out the "Ask an Expert" form to the right, or give us a call.

Key Properties
INCI Name: Epoxycyclohexylethyl Polysilsesquioxane
Epoxy Equivalent Weight: 177
Formula Weight: 1418.20
Appearance: clear, pale yellow/orange, viscous liquid
Viscosity (@ 60˚C): 500 poise
Thermal Stability (5% wt loss): 403˚C
Solvent Stability: THF, chloroform, isopropanol
Solvent Insolubility: hexane
Resin Solubility: aromatic and aliphatic resins
Relevant Literature
• Crack-Free 3D Hybrid Microstructures – ACS Nano. 2009 Oct 27;3(10):3251-9
• Modified morphology and properties of poly(2,6-dimethyl-1,4-phenylene oxide)/polyamide 6 blends – European Polymer Journal 45(8) Aug 2009, 2202
• Passivation Layer of Iron-Based Rare Earth Powders – US Patent 7,390,579
• Epoxide Coatings for Stone Consolidation and Conservation – J. Korean Soc. Cons. 26:1 (2010) 85-94.
• Improvement of mechanical properties of poly(butylene terephthalate) through chain extension – JAPS. 107 (2008) 825-830 • Photodefinable dielectric materials – /. J. Elec. Mat. 39:2 (2010) 149–156
Download EP3F08.01 Data Sheet
Download EP3F08.02 Data Sheet
Download EP3F08.04 Data Sheet
Download the Catalog Page
Download an EP0408 for Toughened Polyester Data Sheet
Download an EP0408 Dielectric Coating Data Sheet
Download an EP0408 for HXNBR Data Sheet
Download an EP0408 Dielectric for Finer Features in Electronics Data Sheet
Download an EP0408 Cosmetic Data Sheet
CAS: 187333-74-0
Authorizations: INCI
SDS (EP0408)
SDS (EP3F08.01)
SDS (EP3F08.02)
SDS (EP3F08.03)
SDS (EP3F08.04)