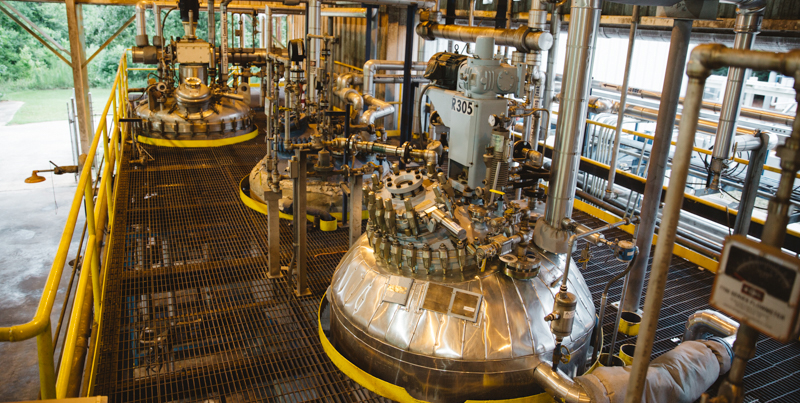 Hybrid's plant in Hattiesburg, Mississippi provides the equipment and capacity to develop product solutions from concept to scale. We make a range of products, from research and development quantities to bulk. All manufacturing processes are supported by a PhD staff. Our facilities have been given the second highest classification of Level 9 in Manufacturing Readiness by the Department of Defense. This rating, used to measure supplier capacity and technology maturity for manufacturing purposes, is a testament to Hybrid's ability to customize and manufacture POSS to meet the needs of private industry and national defense.
Bulk Manufacturing and Production
Our main manufacturing area is where crystalline POSS compounds, thermosets, coatings, acrylic monomers and personal care materials are processed. With glass-lined reactors that range in size from 100 to 1000 gallons and a 2 square meter Cogeim filter/dryer system, Hybrid has the capacity to manufacture POSS at ton levels.
Large Scale Extrusion
Once a solution is found and vetted to meet a customer's unique need, the large scale extruder allows Hybrid to scale up. Masterbatch capacity is 450 lbs/hour, which supports commercial and industrial compounding.